Welcome to the Interactive Biomaterials REU Program.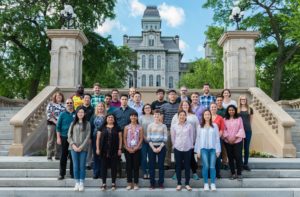 2023 Program Dates:
June 4, 2023 – August 11, 2023
BioInspired Institute for Material and Living Systems | Materials Research Core Facility
Syracuse University – Syracuse, New York
The BioInspired Institute for Material and Living Systems is an interdisciplinary institute focused on research in biological materials, from the properties of individual cells, to their organization into tissues and organs, to the development of smart medical devices. The institute is a cohesive collection of highly collaborative faculty spanning eight (8) academic units, including faculty from SU College of Engineering and Computer Science, College of Arts and Sciences, SUNY Upstate Medical University and SUNY College of Environmental Science and Forestry.
Program Highlights:
Collaborative research on the campuses of Syracuse. University, Upstate Medical University, and SUNY ESF.
State-of-the-art research facilities.
Seminars, workshops, professional development, teambuilding and social activities.
REU Research Poster Session (students may be nominated to participate in the NSF REU Symposium)
Award:
Generous Stipend
University Housing
Meal Plan Supplement
Eligibility:
Undergraduate students majoring in science or engineering
U.S. Citizen or permanent resident
Minorities and women strongly encouraged to apply
Research:
Students have the opportunity to do research in any of the following areas:
3D Biofabrication/Bioprinting
Functional and Responsive Materials
Tissue Engineering/Regenerative Medicine
Polymer Chemistry, Rheology and Processing
Theory and Modeling
Mechanobiology
Nanobiotechnology
Stem Cell Based Therapies
Hydrogels
Biomaterials Composites
Soft and Living Matter
Medical Device
Biophysics
Cell/Materials Interactions
Developmental Biology
Cheers!