Dr. Zhen Ma attended the Lush Prize Awards Ceremony in London, England on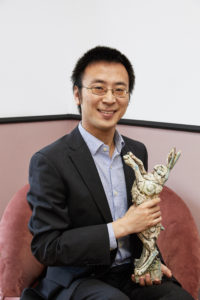 November 10, 2017.  Dr. Ma was awarded in the category of Young Researcher- Americas.
Lush Prize, a joint project between Lush Cosmetics and the Ethical Consumer Research Association (ECRA), was founded in 2012 as a way of supporting initiatives to replace the use of animals in toxicology research. They are a 1R Prize, meaning they support absolute replacement of animal testing, rather than refinement and reduction.
This year's total prize money is £350,000, distributed across five categories, and is fully funded by Lush Cosmetics
For more information about Dr.Ma's research go to
MyHeart.syr.edu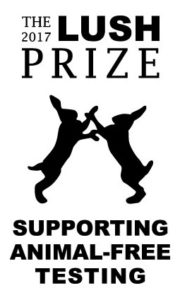 MEDIA RELEASE FROM THE 2017 LUSH PRIZE
10 November 2017
Largest prize fund to support replacement of animal tests to award £330,000 across the world
Campaigners and scientists from eleven countries have received significant support for their work to end animal testing this month, with £330,000 funding from the Lush Prize.
The annual prize fund, launched in 2012, has now provided more than £1.8 million to support animal-free testing and campaigns around the world. This year sees the first winner from Chile as well as winners from China and Japan, revealing how campaigns against animal testing, and alternatives to animal use, are now being taken up in countries without historical support for animal protection.
The Lush Prize, now in its sixth year, is a collaboration between cosmetics company Lush and research organisation Ethical Consumer. As the largest prize fund for the complete replacement of animal experiments, it funds projects working to end animal research in toxicology (chemical testing).
The Prize covers several key areas: science, training, public awareness, lobbying and young researchers. Last year new prize categories for young researchers in Asia and the Americas were added, thanks to funding from Lush in North America, Japan and South Korea. These have again been included in the 2017 Lush Prize, and a total of 13 young scientists from Brazil, USA, China, Japan, Singapore, Australia, Germany, Luxembourg and the UK will receive £10,000 each towards their projects.
Winners this year include:
The Human Toxicology Consortium Project – training scientists and regulators on Adverse Outcome Pathways (which offer the potential to greatly improve prediction of health effects and end the use of animals in safety testing)
AFABILITY – a French/UK initiative to replace the use of animal-derived antibodies, which use up to 1 million animals a year in the EU
Te Protejo – a Chilean charity that promotes cruelty-free cosmetics
A Harvard University team developing a bioprinting platform for fabricating 3D human organ-on-a-chip models
Lush Prize spokesperson Craig Redmond, said:
"This year nominations for the Lush Prize were received from 38 countries, by far the highest so far. Judges continue to be impressed with not only the high quality of science and campaign initiatives happening globally to replace animal tests, but also the integrity of young researchers who want to avoid using animals for both ethical and scientific reasons. We are delighted to once again be able to support projects across the world, not only financially but by raising their profile and showing governments, scientists and the public that we all need to co-operate to replace animal testing with superior, human-relevant, alternatives."
All winners will receive their prize – a hand-sculptured hare and the prize money – at the Lush Prize Awards Ceremony in London on 10th November. They will also participate in a unique networking event that brings together scientists and campaigners from around the world to discuss potential collaborative projects.
ENDS
PRESS ENQUIRIES
craig@lushprize.org
NOTES TO EDITORS
The complete list of winners is below.
The Lush Prize is a partnership between Lush and Ethical Consumer to support animal-free toxicology and is designed to reward groups or individuals working in the field of cruelty-free scientific research, awareness-raising and lobbying to help bring an end to animal testing. The £250,000 annual prize fund (which has again been boosted this year by an extra £80,000 for Young Researchers in Asia and Americas) is the biggest prize in the non-animal testing sector, and the ONLY one to focus solely on the replacement of animal tests. It seeks to focus pressure on safety testing for consumer products in a way that complements projects already addressing the animal testing of medicines.
The Prize categories (http://www.lushprize.org/awards/) –
Public Awareness: public awareness-raising of on-going testing
Science: for the development of replacement non-animal tests
Training: training researchers in non-animal tests
Lobbying: policy interventions to promote the use of replacements
Young Researcher: to researchers under 35 years old specialising in replacements research
About Ethical Consumer: Ethical Consumer Research Association is a not-for-profit research and consultancy co-operative specialising in independent research into social, animal welfare and environmental issues. www.ethicalconsumer.org
About Lush: Lush is a campaigning manufacturer and retailer of fresh handmade cosmetics with shops in 49 countries. The Lush Prize is one element in a broader campaign called 'Fighting Animal Testing'.
Details of last year's prize winners can be found at: http://lushprize.org/2016-prize/2016-prize-winners/
Every year, it is estimated that more than 115 million animals are used in testing laboratories around the world.