Applications of Multifunctional Polymer Networks to Medicine
November 26, 2012
Pictures of the event are here, check them out!
The Speaker: Andreas Lendlein
University Professor, Helmholtz-Zentrum Geesthact GmbH
Director, Center for Biomaterial Development
Board of Directors Member, Berlin-Brandenburg Center for Regenerative Therapies (BCRT)
Professor, Materials in Life Sciences
University Potsdam
Professor, Chemistry, FU Berlin
Faculty Member, Charite, Berlin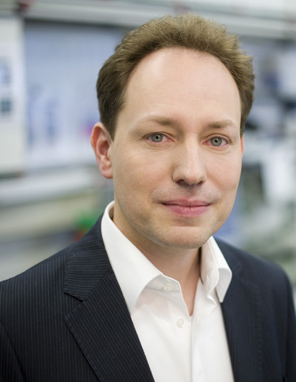 Biography
Andreas Lendlein is Director of the Institute of Polymer Research at Helmholtz-Zentrum Geesthacht in Teltow, Germany, and serves on the Board of Directors of the Berlin-Brandenburg Center for Regenerative Therapies, Berlin. He is Professor for Materials in Life Sciences at University of Potsdam and Professor in Chemistry at the Freie Universitat Berlin as well as member of the medical faculty of Charite University Medicine Berlin. His research interests in macromolecular chemistry and material science are polymer-based biomaterials with special emphasis given to multifunctional materials, stimuli-sensitive polymers, especially shape-memory polymers, and biomimetic polymers. Furthermore, he explores potential applications of such biomaterials in biofunctional implants, controlled drug delivery systems, and regenerative therapies. He completed his habilitation in Macromolecular Chemistry in 2002 at the RWTH Aachen University, worked as a visiting scientist at the Massachusetts Institute of Technology, and received his doctoral degree in Materials Science from Swiss Federal Institute of Technology (ETH) in Zurich in 1996. Andreas Lendlein received more than 20 awards for his scientific work, and his achievements as an entrepreneur including the BioFUTURE Award in 1998, the 2000 Hermann-Schnell Award and the World Technology Network Award in the category Health & Medicine in 2005. He has published more than 220 papers in journals and books, and is an inventor of more than 250 published patents and patent applications
Lecture Abstract
Polymers are applied today in a variety of clinical applications. Interestingly, most of these materials were initially not developed for medicine, but were available as engineering plastics for industrial applications. The success of polymer‐based medical devices and controlled drug delivery systems has motivated many proposals for novel potential applications. Each application demands a specific combination of biomaterial´s properties and functions. With a growing number of applications the number of materials required differing substantially in their property/function profile is increasing as well. Therefore polymer systems are required, which allow to tailor properties and functions. The design of multifunctional biomaterials is exemplarily illustrated for cardiovascular implants, such as degradable stents and devices for minimally invasive surgery. Finally, the potential of polymer‐based biomaterials in regenerative therapies is outlined.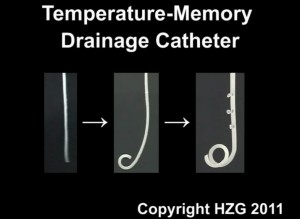 The Stevenson Biomaterials Lecture Series
The Stevenson Biomaterials Lecture Series was established in 2007 thanks to the generous support of Trustee Ann McComber Stevenson (Nursing '52) and the late Trustee Emeritus Milton F. Stevenson III (Chemical Engineering '53).
Each semester, the series brings pioneering biomaterials researchers to the Syracuse University campus. Presenters are selected based on their leading roles in biomaterials research, and are asked to speak on their latest endeavors. In addition, Stevenson lecturers visit with faculty and students to exchange ideas, build bridges, and become familiar with the broad range of biomaterials activities at Syracuse University.
The Stevensons also generously endowed a professorship in 2006 to encourage leadership at the interface of chemical and biomedical engineering, triggering excitement on campus in the interdisciplinary field of biomaterials. Ann Stevenson remains actively involved in many campus and regional activities and is proud to contribute to Syracuse University's mission of Scholarship in Action. Milton F. Stevenson III passed away in 2009, but his spirit endures at L.C. Smith through the many ways he supported the college.