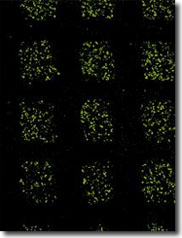 Dacheng Ren
Director, Syracuse Biomaterials Institute
Stevenson Endowed Professor, Dept. of Biomedical and Chemical Engineering
Chemical Engineering Graduate Program Director
Address: 303E Bowne Hall
Phone: 315-443-8760
Address: 357 Link Hall
Phone: 315-443-4409
E-mail: dren@syr.edu
Website: http://renlab.syr.edu/
Research
Microbe-surface interactions, cell-cell signaling, device-associated infections, sensors for pathogen detection, novel biofilm inhibitors, and surface modification for biofilm control.
Recent Publications
Shuyu Hou, Erik A. Burton, Karen A. Simon, Dustin Blodgett, Yan-Yeung Luk, Dacheng Ren, "Inhibiting Escherichia coli Biofilm Formation by Self-Assembled Monolayers of Functional Alkanethiols on Gold." Appl Environ Microbiol. 2007 Jul;73(13):4300-4307.
Andres Gonzalez, Rongju Zuo, Dacheng Ren, and T. K. Wood, "Hha, YbaJ, and OmpA Regulate Escherichia coli K12 Biofilm Formation and Conjugation Plasmids Abolish Motility," Biotechnol. Bioengr.,93: 188-200, (2006).
Jinpian Diao, Dacheng Ren, James R. Engstrom, and Kelvin H. Lee "A Surface Modification Strategy on Silicon Nitride for Developing Biosensors Made of Giant Magnetoresistive Materials". Analytical Biochemistry, 343: 322-328 (2005)
Marcus B. Jones, Rachana Jani, Dacheng Ren, Thomas K. Wood, and Martin J. Blaser "Inhibition of Bacillus anthracis growth and virulence gene expression by inhibitors of quorum-sensing". Journal of Infectious Diseases, 191: 1881-1888 (2005).
Dacheng Ren, Rongjun Zuo, and Thomas K. Wood "Quorum-Sensing Antagonist (5Z)-4-Bromo-5-(bromomethylene)-3-butyl-2(5H)-furanone Influences Siderophore Biosynthesis in Pseudomonas putida and Pseudomonas aeruginosa". Applied Microbiology and Biotechnology, 66(6): 689-695 (2005).