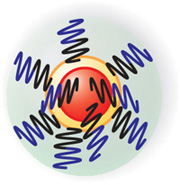 Mathew M. Maye
Assistant Professor,
Department of Chemistry
Address: CST 4-014D
Phone: 315-443-2146
E-mail: mmmaye@syr.edu
Website: http://nano.syr.edu/
Research
Developing new bio-mimetic approaches towards self-assembling nanomaterials into controlled nano-architectures.
News
Recent Publications
H. Han; G. Di Francesco, M.M. Maye "Size Control and Photophysical Properties of Quantum Dots Prepared via a Novel Tunable Hydrothermal Route" J. Phys. Chem. C 2010 (ASAP).
W. Wu, P.N. Njoki, H. Han, H. Zhao, E.A. Schiff, P. Lutz, L. Solomon, S. Matthews, M.M. Maye 2010 (Submitted)
J. Zylstra, J. Amey, N. Miska, L. Pang, R.P. Doyle, M.M. Maye 2010 (Submitted)
C.R. Hine; M.M. Maye, 2010 (In-Submission)
M.M. Maye, M. Cotlet, O. Gang "Photoluminescence enhancement in CdSe/ZnS-DNA linked-Au nanoparticle heterodimers probed by single molecule spectroscopy" Chem. Commun. 2010, 33, 6111-6113.