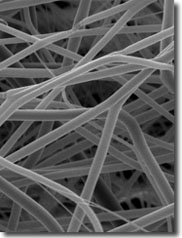 Patrick T. Mather
Professor,
Department of Biomedical and Chemical Engineering
Address: 318 Bowne Hall
Phone: 315-443-8760
E-mail: ptmather@syr.edu
Website: http://mather.syr.edu
Research:
Biodegradable polymers
POSS Nanocomposites
Controlled drug delivery
Biomineralization
Liquid Crystalline Elastomers
Shape Memory Polymers
Electrospinning
Thermosets
Recent Publications
Erika D. Rodriguez, X. Luo, and P.T. Mather, "Linear and Crosslinked Poly (ε-Caprolactone) Polymers for Shape Memory Assisted Self-Healing (SMASH)," ACS Applied Materials and Interfaces ASAP (2011).
K.A. Davis, K.A. Burke, P.T. Mather, J.H. Henderson, "Dynamic cell behavior on shape memory polymer substrates," Biomaterials in press(2011). DOI: 10.1016/j.biomaterials.2010.12.006
A.M. DiOrio, X. Luo, K.-M. Lee, and P.T. Mather, "A Functionally Graded Shape Memory Polymer," Soft Matter 7 68-74 (2011).
J. Choi, R. Wycisk, W. Zhang, P.N. Pintauro, K.M. Lee, and P.T Mather, "High conductivity perfluorosulfonic acid nanofiber composite fuel-cell membranes," ChemSusChem 3 (11) 1245-1248 (2010).
J. Wu, Q. Ge, and P.T. Mather, "PEG-POSS Multiblock Polyurethanes:Synthesis, Characterization and Hydrogel Behavior," Macromolecules 43 7637–7649 (2010).