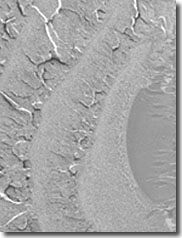 Jeremy Gilbert
Founder, Syracuse Biomaterials Institute
Editor-in-Chief of the Journal of Biomedical Materials Research Part B: Applied Biomaterials
Professor of Biomaterials,
Department of Biomedical and Chemical Engineering
Address: 318 Bowne Hall
Phone: 315-443-2105
E-mail: gilbert@syr.edu
Website: http://www.lcs.syr.edu/faculty/gilbert/
Research
Bone cements, electrochemical phenomenon associated with metallic implant materials, micromechanics of surfaces and viable biological tissues, self-reinforced composites, orthopedic implant design and degradation mechanisms, medical device retrieval and failure analysis, performance testing of medical devices, instrumentation development for biomaterials characterization, in-situ AFM, nanoindentation of polymeric biomaterials.
Recent Publications
Gilbert, JL, "Mechanically Assisted Corrosion of Metallic Biomaterials", ASM International Handbook, Volume 13C: Corrosion, 826-836, 2006.
Gilbert, JL, "Modeling the Complexity of Polymerization Reactions in Bone Cement: Effects of Conversion, Constraint, Heat Transfer, and Density Changes", J Biomed Mat Res, 2006: 79-A; 999-1014.
Allen, M, Leone, KA, Schoomaker, JE, Hasenwinkel, JM, Gilbert, JL, "Tissue Response to In-Situ Polymerization of a New Two-Solution Bone Cement:Evaluation in a Sheep Model", J Biomed Mat Res Part B, 2006,: 79B; 441-452.
Urban RM, Gilbert JL, Jacobs JJ: Corrosion of Modular Titanium Alloy Stems in Cementless Hip Replacement. In Titanium, Niobium, Zirconium and Tantalum for Medical and Surgical Applications, ASTM STP 1471, edited by LD Zardiackas, MJ Kraay and HL Freese, ASTM International, West Conshohocken, PA, 2006; 215-24.
Gettens, RT, Gilbert, JL, "Fibrinogen Adsorption onto 316L Stainless Steel under Polarized Conditions", J. Biomed. Mat. Res., Part A, 2008 Apr; 85(1): 176-87.
Rodrigues, DC, Urban, RM, Jacobs, JJ, Gilbert, JL, "Severe Corrosion and Hydrogen Embrittlement In-Vivo in Ti-6Al-4V Modular Body Hip Stems", J. Biomed. Mat. Res. (B), conditionally accepted Jan 08.