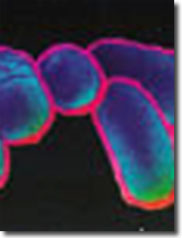 Scott Erdman
Associate Professor,
Department of Biology
Address: 609 Biological Research Labs
Phone: 315-443-3748
E-mail: seerdman@syr.edu
Website: http://biology.syr.edu/faculty/erdman/erdman.htm
Research
Analyses of a novel paxillin homolog and Rho GTPase signaling modulator, Pxl1p; studies of the functions, traffic, and inhibition of fungal adhesins; functional genomics of fungal control of lipid and membrane homeostasis.
Recent Publications
D. Chirinos*, K. He, V. Aberdeen, W.T. Starmer and S.E. Erdman. (in preparation) Loci Affecting Cellular Responses of Saccharomyces cerevisiae to Triterpene Glycosides, Natural Products of the Cactus Species Agria.
Mackin, T. Sousou* and S.E. Erdman (submitted) The PXL1 gene of S. cerevisiae encodes a paxillin-like protein that functions in polarized cell growth.
Huang, M. Zhang and S.E. Erdman (2003) Posttranslational modifications required for cell surface localization and function of the fungal adhesin Aga1p. Eukaryotic Cell (in press).
Muller, N. Mackin, S.E. Erdman and K. Cunningham. (2003) Fig1p Facilitates Ca++ Influx System and Cell Fusion During Mating of Saccharomyces cerevisiae. J. Biological Chemistry (in press).
Zhang, D. Bennett*, and S.E. Erdman (2002) Maintenance of mating cell integrity requires the adhesin Fig2p Eucaryotic Cell 1:811-822.