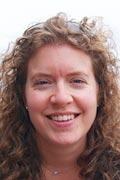 Heather D. Coleman
Assistant Professor
Department of Biology
Address: 460 LSC
Phone: 315-443-0453
E-mail: hcoleman@syr.edu
Website:http://biology.syr.edu/faculty/coleman/coleman.htm
Research
The formation of the plant cell wall and how various external and internal factors influence cell wall chemistry. The plant cell wall is important from a number of perspectives for human use including food and fiber, but my research focuses on improving its usefulness as a source for biofuels and other bioproducts.
Recent Publications
Harrison M, Geijskes RJ, Coleman HD, Shand K, Kinkema M, Palupe A, Hassall R, Sainz M, Lloyd R, Miles S, Dale J. (2011) Accumulation of recombinant cellobiohydrolase and endoglucanase in the leaves of mature transgenic sugarcane. Plant Biotechnology Journal, 9: 884-896.
Coleman HD, Yan J, Mansfield SD. (2009) Sucrose synthase affects carbon partitioning to increase cellulose production and altered cell wall ultrastructure. Proceedings of the National Academy of Sciences, USA, 106: 13118–13123.
Coleman HD, Samuels AL, Guy R, Mansfield SD. (2008) Perturbed lignification impacts tree growth in hybrid poplar – a function of sink strength, vascular integrity, and photosynthetic assimilation. Plant Physiology, 148: 1229-1237.
Coleman HD, Park JY, Nair R, Chapple C, Ralph J, Mansfield SD. (2008). RNAi-mediated suppression of p-coumaroyl-CoA 3'-hydroxylase in hybrid poplar impacts lignin deposition and soluble secondary metabolism. Proceedings of the National Academy of Sciences, USA. 105: 4501-4506.
Coleman HD, Canam T, Kang KY, Ellis DD, Mansfield SD. (2007). Over-expression of UDP-glucose pyrophosphorylase in hybrid poplar affects carbon allocation. Journal of Experimental Botany 58: 4257-4268.