Stevenson Biomaterials Lecture: February 24, 2011
Dendritic Polymers for Biomedical Applications:
From Concept to Clinical Use
February 24, 10:30 – Room 500, Hall of Languages
Please RSVP by February 16, 2011 to Karen Low at kplow@syr.edu
The Speaker: Professor Mark W. Grinstaff
Abstract
Dendritic macromolecules are versatile materials for medical applications since the structure, molecular weight, and chemical composition can be precisely controlled. We have reported the synthesis and characterization of polyester, polyester-ether, and polyamide dendrimers and dendrons composed of biocompatible building blocks for medical applications. These dendritic macromolecules can be sub-sequently crosslinked to form hydrogels using a photochemical acrylate-based or a chemical ligation strategy. The properties – mechanical, swelling, degradation, etc. – of the hydrogels can be tuned by altering the composition, crosslinking chemistry, wt%, generation number and so forth. Theses dendrimers and hydrogels have been used successfully to seal corneal wounds and to repair cartilage defects. These research accomplishments led to the formation of HyperBranch Medical Technology Inc (HBMT). HBMT has successfully developed and commercialized an ocular sealant – OcuSealTM, the first sealant designed for repairing ocular wounds. In this lecture, I will focus on the synthesis, characterization, and in vivo evaluation of dendritic macromolecules.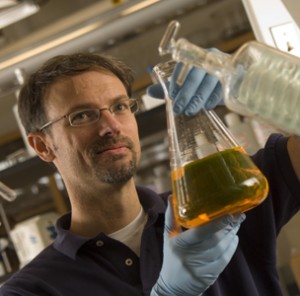 The Speaker
Mark W. Grinstaff is a Professor of Biomedical Engineering and Chemistry at Boston University and a College of Engineering Distinguished Faculty Fellow. Mark received his Ph.D. from the University of Illinois under the mentorship of Professor Kenneth S. Suslick and was an NIH postdoctoral fellow at the California Institute of Technology with Professor Harry B. Gray. Mark's awards include the ACS Nobel Laureate Signature Award, NSF Career Award, Pew Scholar in the Biomedical Sciences, Camille Dreyfus Teacher-Scholar, Alfred P. Sloan Research Fellowship, and the Edward M. Kennedy Award for Health Care Innovation. He has published more than 125 peer-reviewed manuscripts and given more than 225 oral presentations. He is a co-founder of three companies that are commercializing his ideas, and he has four products being used in the clinic. His current research activities involve the synthesis of new macromolecules and amphiphiles, self-assembly chemistry, tissue engineering, drug delivery, and wound repair.
The Stevenson Biomaterials Lecture Series
The Stevenson Biomaterials Lecture Series was established in 2007 thanks to the generous support of Trustee Ann McComber Stevenson (Nursing '52) and the late Trustee Emeritus Milton F. Stevenson III (Chemical Engineering '53).
Each semester, the series brings pioneering biomaterials researchers to the Syracuse University campus. Presenters are selected based on their leading roles in biomaterials research, and are asked to speak on their latest endeavors. In addition, Stevenson lecturers visit with faculty and students to exchange ideas, build bridges, and become familiar with the broad range of biomaterials activities at Syracuse University.
The Stevensons also generously endowed a professorship in 2006 to encourage leadership at the interface of chemical and biomedical engineering, triggering excitement on campus in the interdisciplinary field of biomaterials. Ann Stevenson remains actively involved in many campus and regional activities and is proud to contribute to Syracuse University's mission of Scholarship in Action. Milton F. Stevenson III passed away in 2009, but his spirit endures at L.C. Smith through the many ways he supported the college.