A T   S Y R A C U S E   U N I V E R S I T Y
Stevenson Biomaterials Lecture & Research Poster Session
Life Sciences Complex Atrium
Friday, March 3, 2017
Poster Session: 10:30 a.m. to 12:00 a.m.
Luncheon: 12:15 p.m. to 1:00 p.m.
Lecture: 1:15 p.m. to 2:15 p.m.
Research Award Ceremony: immediately following the luncheon
Open House – 3:00 p.m. to 4:30 p.m.
SBI Central Research Lab: 4th Floor Bowne Hall
Flow Core Facility: 309A Link Hall
Event Registration
Stevenson Biomaterials Lecture & Luncheon
Please Register Here
by Monday, February, 27
Need Parking arrangements? Please contact Karen Low at 315-443-3544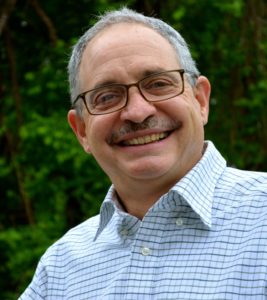 2017 Stevenson Biomaterials Lecturer
David L. Kaplan
Stern Family Endowed Professor of Engineering
Professor & Chair, Department of Biomedical Engineering
Distinguished University Professor, Tufts University
Director, NIH P41 Resource Center on Tissue Engineering
Editor-in-Chief, ACS Biomaterials Science and Engineering
Presentation:
Engineering Silk Proteins for Regenerative Medicine
Abstract
Silk is one of the oldest biomaterials, utilized as sutures and in wound healing for centuries, yet undergoing a rebirth into new biomaterial formats and applications over the past few decades. One key to this emergence has been to modify the native protein using new processing methods and chemistries to engineer new material features. Some of these strategies developed to morph silk, as a high molecular weight amphiphilic protein, into new biomaterials with new properties will be discussed. The utility of some of these new material formats in 3D printing, biomaterial scaffolding, tissue engineering and regenerative medicine will also be presented. The needs for tunable, degradable, robust biomaterials for a range of medical goals remains high and silk proteins offer a unique suite of options to help address these needs.
Biography
David Kaplan is the Stern Family Endowed Professor of Engineering at Tufts University and a Distinguished University Professor. He is Professor & Chair of the Department of Biomedical Engineering. His research focus is on biopolymer engineering to understand structure-function relationships, with emphasis on studies related to self-assembly, biomaterials engineering and regenerative medicine. Since 2004 he has directed the U.S. National Institutes of Health P41 Tissue Engineering Resource Center (TERC) that involves Tufts University and Columbia University. He has published over 700 peer reviewed papers and his lab has pioneered the study of silk-based biomaterials in regenerative medicine. He is the editor-in-chief of the journal ACS Biomaterials Science and Engineering and serves on many other editorial boards and programs for journals and universities. He has received numerous awards for teaching and research.

Link to Kaplan Lab
Please stay tune for upcoming WRVO announcements.

Week of 2/20
* Fri 2 – 4pm Science Friday
* Sat 8am – 12n NPR Saturday
* Sun 8am – 6pm WRVO weekend rotation
Week of 2/27
* M – Th  6 – 8:30am NPR Morning Edition
* M – W  6:30,7:00,7:30,8;00 Morning news sponsorship
* M – W  4 – 7pm NPR All Things Considered
The Stevenson Biomaterials Lecture Series
The Stevenson Biomaterials Lecture Series was established in 2007 thanks to the generous support of Trustee Ann McOmber Stevenson (Nursing '52) and the late Trustee Emeritus Milton F. Stevenson III (Chemical Engineering '53).
Each year, the series brings pioneering biomaterials researchers to the Syracuse University campus. Presenters are selected based on their leading roles in biomaterials research, and are asked to speak on their latest endeavors. In addition, Stevenson lecturers visit with faculty and students to exchange ideas, build bridges, and become familiar with the broad range of biomaterials activities at Syracuse University.